Finsbury Food Group Partners with Mary Berry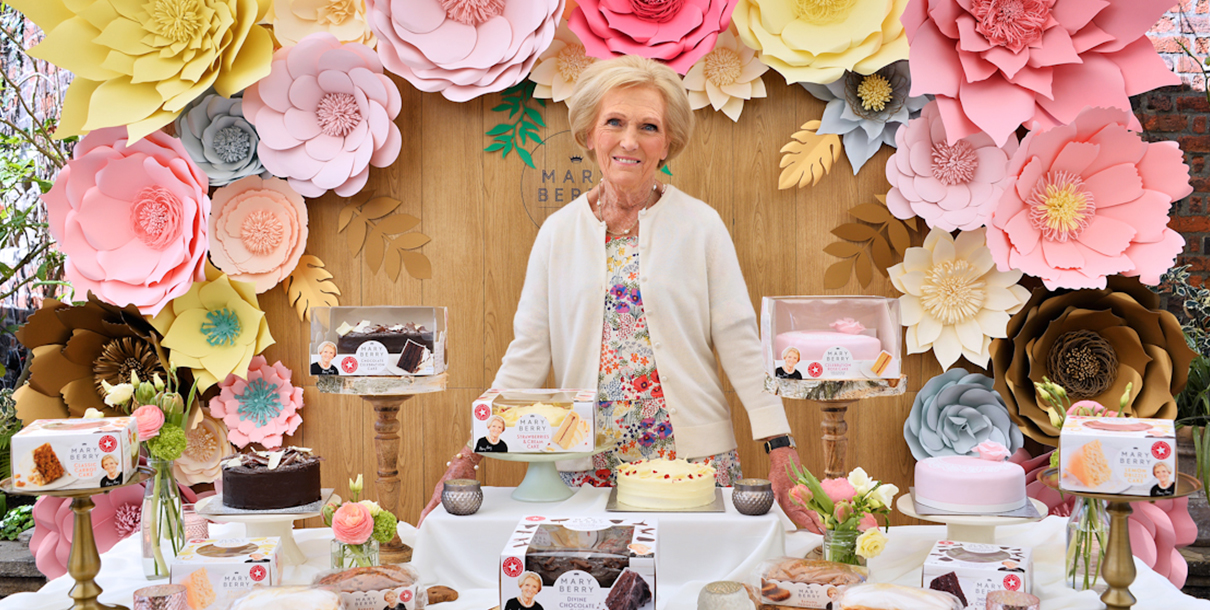 Mary Berry, the Queen of cakes, is launching her first line of ready-to-eat cakes in partnership with one of the UK's leading cake producers, Finsbury Food Group.
The partnership has led to the creation of a range of high quality, beautifully-finished cakes that are inspired by Mary's own recipes. The range caters to every budget and occasion from celebrations and parties to afternoon tea.
Mary Berry commented on the launch, saying: "I am extremely proud of every single one of the cakes in the range I have created with the team at Finsbury Food Group.  Together we have ensured that all the cakes taste great and are faithful representations of many of my favourite recipes.  I hope people enjoy eating them as much as we have enjoyed creating them."
The launch of the new range of cakes comes following new consumer research that confirmed Mary Berry as the definitive authority on cakes over other well-known bakers. The research findings revealed:
Twice as many consumers want to see Mary Berry's name over any other on a range of ready to eat cakes
Mary Berry has the best cake recipes
8 out of 10 consumers are more likely to buy a cake from a supermarket if it has Mary Berry's name on it
8 out of 10 consumers say they prefer to buy a cake for a special occasion rather than make one themselves
Dougie Partridge, Brand Manager for Finsbury Food Group said: "We are incredibly excited and proud to be launching this range of cakes with Mary Berry.  We have put a lot of work into the project to ensure that we have stayed faithful to Mary's own recipes and ensured every cake in the range looks and tastes as close as possible to something she would produce in her own kitchen.
"We know that Mary Berry is the leading authority on cakes and that people love her baking programmes and recipes. It has been essential that we have taken the time to ensure we get these cakes just right and make sure they represent the expertise and heritage that is synonymous with Mary Berry and with Finsbury Food Group."
All the cakes in the range will be available widely this Spring and the full range includes:
Lemon Yoghurt Loaf Cake; flavored with lemon oils and topped with a traditional lemon juice icing and candied lemon strips. Recipe taken from Mary Berry's 100 Cakes and Bakes book.
Banana Fudge Loaf; a butter and banana sponge with fabulous fudge piece inclusions. Recipe is taken from Mary Berry's 100 Cakes and Bakes book.
Lemon Drizzle Cake; Mary's signature cake taken from Mary Berry's Ultimate Cake book. A butter and lemon oil cake, soaked in a lemon syrup and topped with a traditional sugar and lemon crunch icing.
Carrot Cake; a carrot cake with a twist consisting of light muscovado sugar, carrots and bananas and finished with cream cheese and walnut pieces. The recipe is taken from Mary Berry's Ultimate Cake book.
Death by Chocolate Cake; Chocolate cake filled and topped with Belgian milk chocolate ganache buttercream and decorated with Belgian milk chocolate curls. The recipe is from Mary Berry's Simple Cake book.
Divine Chocolate Cake; An indulgent chocolate cake filled with chocolate frosting and hand decorated with a rich, Belgian milk chocolate ganache buttercream. Recipe is taken

 from the 100 Cakes and Bakes book.

Divine Chocolate Celebration Cake; A larger celebration cake version of the cake above.
Strawberries and Cream Cake; An all butter cake filled with a layer of strawberry jam and clotted cream flavour buttercream, finished with Belgian chocolate curls and dried strawberries.
Delicate Rose Celebration Cake; A light cake layered with a strawberry jam and butter cream filling, beautifully hand decorated with soft icing and hand crafted sugar decorations which also includes an edible sugar piping tube for personalisation.